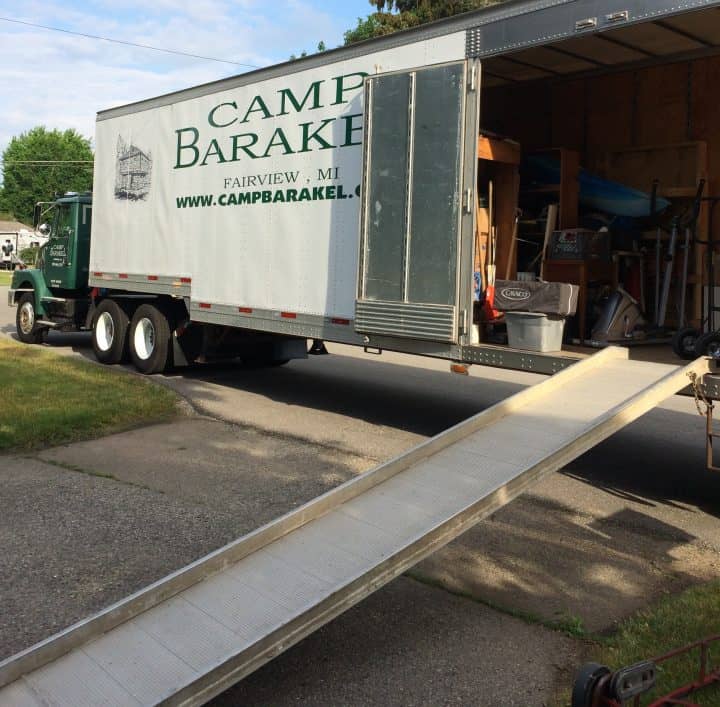 There have been a lot of big changes for our family recently.
1. God sold our house! In preparation for transitioning to ministry at Camp Barakel, we listed our house for sale recently and in six days had a buyer. We wanted to list the house in the spring thinking that this was a good time to sell a house in Mount Pleasant. But as we often do, we under-estimated what God can and would do. We praise the Lord for the quick sale of the house and believe this is one more way the Lord is providing for us. We praise Him!
2. We closed the sale of the house on Thursday, June 15 and the next day, with much help from our family and church family, we loaded almost all of our belongings into the Camp Barakel semi truck and trailer. I got to use my new CDL to drive that beast – what fun! God safely saw me to Barakel by 3 PM Friday the 16th to unload into storage at Barakel and with many helpers at camp the truck was unloaded and our belongings stored in two hours! I was on the road and arrived at our new temporary home in Remus, Michigan by 8:20 PM. We were done a day early. There was rain. But not until we were finished loading or unloading each time. Once again God provided, giving gracious helpers and good weather.
3. Speaking of our new temporary home, we have been enjoying another provision from God. Chippewa Hills Baptist Church in Remus, Michigan, west of Mount Pleasant, makes their parsonage available to missionaries for the cost of utilities. They are letting us stay there as long as we need to. Another provision from God!
4. Yes, God sold our house. God provided safety and help moving and a place to store our belongings at camp. And God provided a temporary place to live and at greatly reduced cost. All of this has given us the opportunity to now begin receiving the 69% support that has already been committed to us. And because of this we believed it was time for me to tender my resignation here at First Baptist Church, Mount Pleasant, Michigan effective August 1. This we believe will allow us to devote ourselves more fully to reaching 100% of our support need. And as soon as we are fully supported we will be able to move to Barakel and begin the work there.
We hope you will praise God with us over all these blessings, big changes and new opportunities. We are praying that we can share with you soon that God is bringing more support. We are so grateful for your prayers, encouragement and for the many who have already joined our support team.