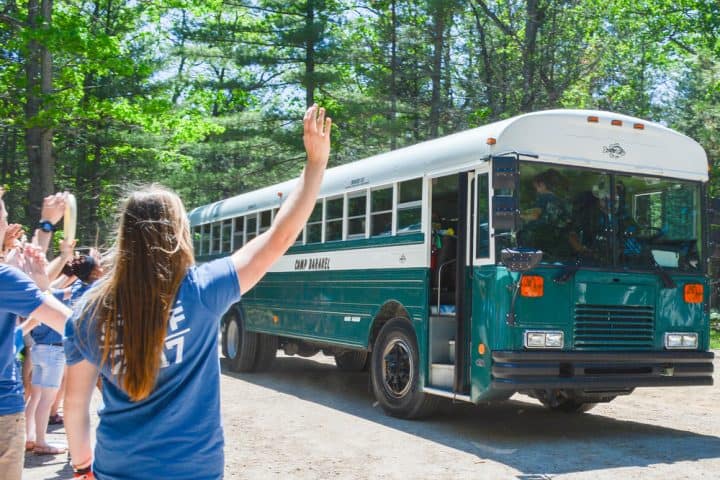 We're not there yet, but we have had opportunities to serve at Barakel when we can. This summer I have been able to transport campers as a driver of one of the Barakel buses four different weeks.
On one occasion as a bus driver returning campers at the end of a week of camp, I had an exchange with a young man. He was wearing sunglasses and kind of hung around the edges of the group when we stopped for lunch on our route south. This particular camper, I thought, didn't look too happy. Maybe he wasn't excited about returning home. It's tough leaving new friends after an exciting week at Barakel. Or maybe he was trying to look cool. I couldn't tell. As he stood in line to get back on my bus I gave him my biggest smile and said, "How was camp?" To my surprise, he instantly lit up with a smile in return and said, "It was great!"
I asked him who his speaker had been. He smiled big again and said, "Ken Pierpont. I really liked him. He was really good!" I was wearing a name tag and figured he had seen it. I said, "That's my older brother." He said, "I wondered" and then smiled one more time before boarding the bus.
I don't know about that young man's life, but I know he heard the Gospel of Jesus Christ proclaimed at camp. I know he had a counselor who loves the Lord. I know he interacted with many people who want him to know Jesus. I know that God promises to accomplish His good purposes with the seeds of Truth that were sown into his life that week. And, I know he enjoyed what may have been a life changing week at Camp Barakel this summer.
Each time I've been at camp this summer while driving bus or semi, I've had encouraging interactions like this one with campers, summer staff, and resident missionary staff. It's for the lives of young men and young women like this our family is looking forward to our part in the ministry at Camp Barakel as soon as possible.
I've also had an opportunity to ride and drive with Tim, the volunteer semi driver a few times. I will travel with Tim again next Monday and Tuesday as I gain much-needed semi driving experience. Tim is a lover of Jesus and a great truck driver. He has given several summers to driving the camp semi. My job will include being his backup when needed. One such occasion will be a week from Saturday when I drive the semi alone to return HIS-ability camper luggage south.
Last year this time our support commitments we were at about 10%. We are now at 75% support committed and we praise God! One recent encouragement among many is that our own church, our sending church, voted to support us financially. We thank God for this, another commitment among many others, to stand with us in our ministry at Camp Barakel.
God is certainly working and we are grateful to Him that He is preparing the way for us to join the Camp Barakel Resident Missionary Staff full-time soon.
Will you continue to pray with us for the remainder of our support need?
Will you also pray for safety traveling, and for more opportunities to be an encouragement to others?
P.S. In July we sent word by mail to our supporters that we are ready to begin receiving support. Many of you have responded and have begun sending that support, for which we are very grateful. Thank you! If you have committed to supporting us and did not receive a Camp Barakel letter from us with details on how and where to send support, please get in touch and we will make sure you have the needed information right away.