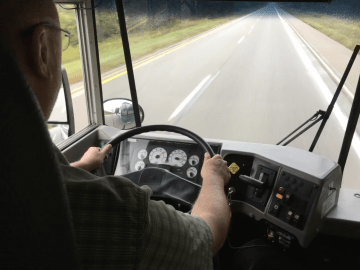 Timing is everything. That's what we say when something works out just right. I'm thinking we should say "God's timing is everything". I've seen this truth in action several times this summer.
At the end of each week of camp, by 8 AM Monday morning, the buses roll with campers returning home. On Tuesday morning the procedure is reversed and new campers are delivered to camp by 2:30 PM. On camp, and at several stops along the way the buses are put in park by applying the air brakes. There's a large handle for this purpose on the driver's dash board. Push, pull, push, pull, push, pull, goes the air brake handle many times on the two-day round trip. And then one week we learned that God's timing is everything.
It was after a full round trip, with campers returned home and new campers safely delivered to camp on Tuesday afternoon, just before the last campers were dropped off on the camp's west side. The air brake handle broke off in the driver's hand. There was now no way to secure the bus in park. All the driver could do was hold the brake with the foot peddle as he released his final passengers and then drove to the bus barn. Another safe round trip with campers. We never consider that a small thing. And how grateful to God we were this time when we realized that had the air brake handle broken along the way south on Monday or north on Tuesday, delivering campers would have been much delayed. God's timing is everything.
What a great reminder for us as our family prays for God's provision of support and takes every opportunity we can to share our journey to Camp Barakel. We have seen repeatedly over the last 14 months of support raising that God's timing is everything.
God sold our house 6 days after listing. God also provided a temporary place to live for the cost of utilities. And with the support we now have committed, I was able to conclude my ministry as Pastor at First Baptist Church, Mount Pleasant on August 1 so that we can focus on reaching 100% support.
We're happy to have opportunities scheduled this fall to share the ministry of Camp Barakel with several churches. As of this week, our support commitments have reached 79%. If it were up to us we'd be at Barakel serving already, but we're often reminded that God's timing is everything. We're confident God will have us serving at Barakel full-time in His perfect timing.
Please continue to pray for us as we wait on the Lord for His provision of support. Pray for our son Jacob who just completed 15 months of ministry volunteering as seasonal staff at Camp Barakel and is now home searching for full-time work. God has already given him opportunities this week to work part-time as he searches. Pray also for our son Nicholas who volunteered at Barakel this summer and will be returning to Barakel in a few days to volunteer as seasonal staff. These have been good opportunities for ministry and spiritual growth for our sons who have served in this way and each has gained lots of practical work experience.
We praise God for each of you who have committed to supporting us through your faithful gifts to God. And our thanks to all of you who are praying for us as we prepare for ministry at Barakel.