Christmas, it's the most wonderful time of the year, right? It also seems like the busiest. During this busy Christmas season I hope you'll pause daily to praise and worship the risen Savior, "he who is the blessed and only Sovereign, the King of kings and Lord of lords" (1 Tim. 6:15), Jesus Christ, during this season when we celebrate His birth.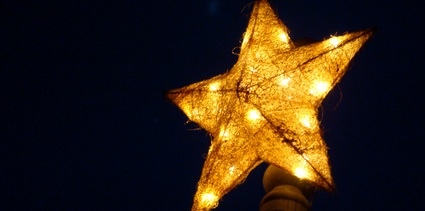 This Sunday morning we begin a two week series I'm calling "Christmas Joy". We'll be in Luke 2:1-20, so read ahead and see if calls to mind reasons for joy at our Saviors birth.
This Sunday evening, December 18 at 6 PM, we'll be gathering for a very special Candelight Christmas Service. This is a great chance to invite an unchurched neighbor or friend to be your guest at church.
This is what's been going on here over the past couple of weeks:
I had a great meeting with our deacons this morning. I so appreciate these men. They are such an encouragement to me and the rest of our church family.
The church is all decorated for Christmas and it looks great. A special thank you to Farrell and Linda, Bonnie and Joe for decorating.
Lot's of projects have been completed around the church building and property. I'm so thankful for each of you who've been working hard to make things look nice. There are still a few projects we need help with, so check the bulletin board at church and let one of the Trustees know what you'd like to help with.
A couple of Sunday night's ago we had a wonderful Thanksgiving and Praise service – what a great encouragement. One can never praise God too much.
Our Christmas dinner and white elephant gift exchange was a lot of fun and a great time of fellowship. Pam and Jan had the fellowship area decorated so nicely.
Lot's of food has been gathered for Christmas Baskets — thanks to everyone who contributed and a special thanks to the drivers who will help deliver baskets on Monday. Pray that folks are encouraged by them and see Christ as we serve this way.
We've reached our goal on the projector fund and hope to have it delivered and installed soon. Praise the Lord! Thank you for your faithful and generous giving.
We have a special opportunity as a church to pray for and encourage one of our own who will be leaving for a short term, home missions opportunity. My eldest son Kevin will be leaving on January 3rd to serve as seasonal staff at Camp Barakel for at least two months this winter. He'll be sharing briefly about this special ministry opportunity during our Sunday morning service this Sunday. Please pray for him and for God's blessing on his ministry along with the many faithful servants of Christ at Camp Barakel.
We're starting 2012 as a church with 8 days of prayer. Will you commit to praying for a given amount of time each day? A commitment to pray means you'll pray at home or with a friend each day for the ministry of HLBC which God has made us all a part of. We begin January first and continue for 8 days to Sunday, January 8. There will be a commitment form and more information to guide your praying in Sunday's bulletin. You can also find more information and a sign up form here on the church website. I praise the Lord that we already have 3 hours of daily prayer committed to.
I hope to see you Sunday and I wish you each a blessed Christmas.
— Pastor Kevin
Photo by: diongillard