Christmas Joy, Part 1 – Luke 2:1-7
Speaker: Kevin A. Pierpont
Listen now to this sermon from the December 18, 2011 AM Service at Higgins Lake Baptist Church.
Download MP3

The other night our family was watching a Christmas movie together called The Man Who Saved Christmas. It was about a toy maker who'd been enlisted by the government in the war effort to make things the soldiers needed on the battle field.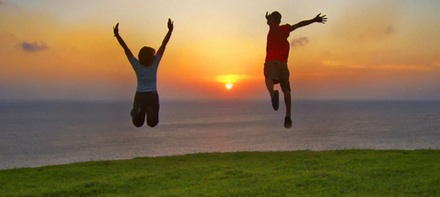 In an effort to get the public to buy war bonds instead of toys, the government also convinced the toy maker to support their idea of canceling Christmas until the war was over. 
And he supported their idea, until he finally came to the opinion that to cancel Christmas would be detrimental to all the children of America. If Christmas day were to come and go with no toys for the children, they'd be broken hearted, they'd have no Christmas joy. 
In the end the toymaker confronted the law makers and convinced them not to cancel Christmas and Christmas was saved, and there was great joy for all at Christmas that year.
Christmas Joy. Christmas Joy. It seems like those two words belong together. The joy of Christmas. And to our natural way of thinking, we do tend to think of joy, more at christmas, than at others times of year, with all the gift giving and celebrating.
But I wonder. Would you be able to celebrate the birth of the Lord Jesus Christ if the traditional celebration of Christmas were cancelled? Would you be able to rejoice over the birth of our Savior without a special day, without any gift giving, without the lights and the decorations — without the cookies and treats? 
After all, we don't really know on which day of the year Jesus was born. The day we celebrate as Jesus birthday is likely not really His day of birth.
So what if the celebration of Christmas were cancelled? Is there enough reason for joy in spite of not having the celebrating and the gift giving? 
I believe there's great reason for joy. In fact I believe there's even greater reason for joy at Christmas than the reasons we so often associate with Christmas. There are many greater reasons for joy at Christmas than we might think.
We're going to look at a very familiar passage in Luke 2 this morning. One we're so familiar with we might tend to skim over these words at Christmas. 
Today and next Sunday, on Christmas morning, we're going to be looking together at the first 20 verses of the 2nd chapter of Luke's Gospel. This morning we'll look at the first 7 verses of Luke 2. 
2:1 In those days a decree went out from Caesar Augustus that all the world should be registered. 2 This was the first registration when Quirinius was governor of Syria. 3 And all went to be registered, each to his own town. 4 And Joseph also went up from Galilee, from the town of Nazareth, to Judea, to the city of David, which is called Bethlehem, because he was of the house and lineage of David, 5 to be registered with Mary, his betrothed, who was with child. 6 And while they were there, the time came for her to give birth. 7 And she gave birth to her firstborn son and wrapped him in swaddling cloths and laid him in a manger, because there was no place for them in the inn.
For many during this period in history it was not a time of joy. With the Roman oppression of the Jews there were many who felt there was no reason for joy. 
Not so for the young couple traveling to Bethlehem. She was expecting a baby. Of course it's normal for a young couple to be excited at the prospect of the arrival of a little baby. But this was going to be no normal child. And yes that's what every parent thinks of their baby. But what set this child apart from all others, before and after, was a special word they'd received from an angel. 
We find the message the angel delivered to young Mary, in Luke 1:26-33:
26 In the sixth month the angel Gabriel was sent from God to a city of Galilee named Nazareth, 27 to a virgin betrothed to a man whose name was Joseph, of the house of David. And the virgin's name was Mary. 28 And he came to her and said, "Greetings, O favored one, the Lord is with you!" 29 But she was greatly troubled at the saying, and tried to discern what sort of greeting this might be. 30 And the angel said to her, "Do not be afraid, Mary, for you have found favor with God. 31 And behold, you will conceive in your womb and bear a son, and you shall call his name Jesus. 32 He will be great and will be called the Son of the Most High. And the Lord God will give to him the throne of his father David, 33 and he will reign over the house of Jacob forever, and of his kingdom there will be no end."  
The birth of each of our children was a stirring and miraculous occasion for us. But, think of it, Jesus Christ, the Savior. The incarnate Son of God. This was a miracle in the truest sense. This child He would be great indeed. 
Verse 7 of our text in chapter 2 says, And she gave birth to her firstborn son and wrapped him in swaddling cloths and laid him in a manger. But even as unusual as was the cattle stall for a birth place and manger for a bed, this birth was like none other. We get another glimpse of just how special this child would be when we see the announcement of the angel of the Lord to Joseph in a dream in Matthew chapter 1 — there we find this:
18 Now the birth of Jesus Christ took place in this way. When his mother Mary had been betrothed to Joseph, before they came together she was found to be with child from the Holy Spirit. 19 And her husband Joseph, being a just man and unwilling to put her to shame, resolved to divorce her quietly. 20 But as he considered these things, behold, an angel of the Lord appeared to him in a dream, saying, "Joseph, son of David, do not fear to take Mary as your wife, for that which is conceived in her is from the Holy Spirit. 21 She will bear a son, and you shall call his name Jesus, for he will save his people from their sins." 22 All this took place to fulfill what the Lord had spoken by the prophet:

23 "Behold, the virgin shall conceive and bear a son,
 and they shall call his name Immanuel"

(which means, God with us). 24 When Joseph woke from sleep, he did as the angel of the Lord commanded him: he took his wife, 25 but knew her not until she had given birth to a son. And he called his name Jesus.

How special was the birth of this child? Exceedingly special. And here's great reason for joy at the birth of Christ — in the words of the angel of the Lord: He will save his people from their sins.
He Will Save His People From Their Sins
Here's real Christmas joy: Jesus Christ, Immanuel — God with us — came to save His people from their sins. 
Of Jesus Christ, Titus 2:14 says He, 
14 …gave himself for us to redeem us from all lawlessness and to purify for himself a people for his own possession who are zealous for good works.
This is true Christmas joy, Jesus really came, God in human flesh, and He came to saves sinners. Just as we hear in Acts 13
23 …God has brought to Israel a Savior, Jesus, as he promised.
And then in verses 38-39 it says of Christ, 
38 that through this man forgiveness of sins is proclaimed to you, 39 and by him everyone who believes is freed from everything from which you could not be freed by the law of Moses.
Do you want to know this true Christmas joy — then look to Jesus alone and believe in Him for the forgiveness of sins and be saved. And then live for Christ that He might be highly exalted by your changed life as you walk in obedience to His Word. Jesus Christ brings what only He can bring — He brings what you and I can never accomplish by a million good deeds — He bring eternal life. 
Here too is real Christmas joy. 
Each of Our Days Is In God's Hands
Think of the turmoil of the days in which Jesus was born. We can see it pointed to right here in Luke 2:1-5. The Roman emperor, Augustus, decrees, he's taxing the world. And for the world to be properly taxed, people must be counted. And where are the Jews in all this? They've lost an independent government of their own — they fall under the control and taxation of the Roman government. And one might think all is lost. 
But no, God is still in control. The counting for taxation meant that, by Jewish custom, all Jews had to be counted according to their ancestral home towns. That is why Mary and Joseph are traveling such a great distance to Bethlehem at such a difficult time in Mary's pregnancy. 
This may seem inconvenient, but even this was according to God's plan. Because the time had come for the Savior to be born, and just as prophesied, he must be born in the city of David, so Joseph, in the lineage of David, is traveling with his expectant wife to the little town of Bethlehem — all in fulfillment of the decree of the Lord. Just as foretold by the Prophet Micah:
Micah 5:2  But you, O Bethlehem Ephrathah,
 who are too little to be among the clans of Judah,
from you shall come forth for me
 one who is to be ruler in Israel,
whose coming forth is from of old,
 from ancient days.
God is in control — each of your days is in God's hands.
Does it seem like the world is out of control at times? Does it seem like ungodly leaders do whatever they wish. Don't lose heart. Don't worry. The Roman Emperor had no clue that God was actually using him to help bring about the fulfillment of His promise.
Don't ever forget, God is in control. Just as we hear in Proverbs 21:1
21:1 The king's heart is a stream of water in the hand of the Lord;
 he turns it wherever he will.
God is in control. And that's clearly demonstrated in the birth of our Savior, Jesus Christ. To know God is in control, this too is true Christmas joy.
And yet there's another reason for Christmas joy. 
The Lowly Birth Of Christ
Think of the way in which Christ was born. We see it here in verse 7 of Luke 2. It says that Mary, 
7 …gave birth to her firstborn son and wrapped him in swaddling cloths and laid him in a manger, because there was no place for them in the inn.
But didn't we just say God was in control? Couldn't God have arranged for better accommodations than a stable and manger? Oh yes, He could have. But He chose not to. And here's great reason for Christmas joy. 
Jesus Christ was born as a servant and lived as a servant, says Philippians 2 of Christ, he: …made himself nothing, taking the form of a servant, being born in the likeness of men. 
And how is this reason for Christmas joy? Because verse 8 says, And being found in human form, he humbled himself by becoming obedient to the point of death, even death on a cross.
The birth of Christ should be all the reason you need for Christmas joy, that's true. But we have an even greater reason for Christmas joy — Jesus Christ wasn't above suffering and dying for your sins. So in all your celebrating at Christmas don't ever forget the real reasons for Christmas joy.
Photo by: bingbing